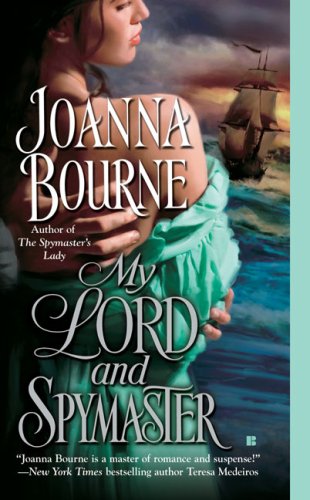 My Lord and Spymaster
Talking about My Lord and Spymaster:
Sebastian Kennett is a self-made man -- passionate, adventurous, and powerful; a master trader and international shipper; a man who'll risk everything for a profit.
Jess Whitby grew up on the mean streets of the East End. Her father's a fine rogue and sometime smuggler. His canny trading and her brilliant management have built them a fortune.
Then one of Sebastian's ships goes down and a traitor is to blame. All the Whitby's money won't protect Jess' father from an accusation of treason.
What happens when they fall in love -- the man hungry for vengeance and the woman who's going to save her father at all costs?

and an excerpt . . .
He cupped her cheek, turning her till he had her whole attention. "Stay with me, Jess. It's cold out there and it's dark and it's raining." In the rookeries, five or six men were waiting for her, hoping for a quiet minute to bash her over the head.
"It is raining." Her topaz-colored gaze was beginning to shift out of focus as the brandy hit.
"And you're drunk as a wheelbarrow. Getting there, anyway."
"I'm drunk?"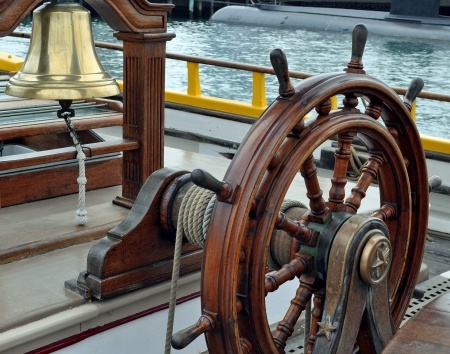 "Three sheets to the wind, as we say at sea. Let's finish the job." He tipped up the bottom of her glass and made her drink, hurrying her through the rest of it, getting the medicine into her before she fell asleep. " That's right. Last drop.
"Drunk." She let him have the empty glass. "I can't think anyway, so it probably doesn't make much difference. You would not believe how strange it is inside my head."
"Why don't you relax and enjoy it."
"I don't do that sort of thing. Get drunk, I mean. I'm a very serious person."
She was a serious per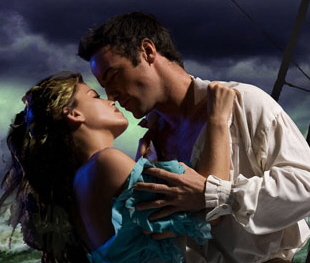 son in danger of rolling off the bed in a few minutes, all boneless and relaxed.
She watched him set the glass away on the table. "Papa said not to do anything daft. But I think I did." She frowned. "Maybe did. You ever catch fish in a pool, Captain? The way they dart off when you go after them. It's like that, trying to remember. There's something I have to do."
"Let the fish be for a while. You'll remember in the morning." All that brandy in her and she was still rummaging through her mind, worried as a conscientious clerk with a misplaced invoice. It was a stubborn woman he had naked in his bed tonight. But she didn't object when he gathered her together and laid her down on the pillows. Didn't object when he stroked her hair and the back of her neck. He watched her thoughts dissolve like snow melting off a roof. After a while, her fingers uncurled their grip on the blanket. The gold locket slipped to nestle between her breasts. Her truly excellent breasts.
Her eyes were half closed. "You have lots of women, Captain? You look like somebody who's had lots of them." Her voice was dreamy. She was already lost in what he was doing to her face and her neck.
None like you. Never anyone like you. "Not so many. A sailor can go without when he needs to. I don't grab, if that's what you mean. I ask. Tonight I won't even ask. Are you warm enough? I can get another blanket."
"What? Oh, yes. Toast. Be warm in a snowdrift with you doing that to me."
He leaned over her, looking down, admiring the golden woman he had, half asleep, in his bed. She put her hand up between them, not pushing him away, just touching him with sleepy curiosity. Softening. Accepting him. It was the first in a long line of surrenders she'd make, and never realize she was making.

Publishers Weekly says:
Bourne's latest espionage-based series historical (following The Spymaster's Lady) entices with subtle subterfuge and heated romance. Jess Whitby, daughter of suspected spy Josiah Whitby, is doing everything in her power to exonerate her imprisoned father. In order to free him, she must prove that someone other than her father is the Cinq, a notorious mole. But Jess has met her match in Capt. Sebastian Kennett, wealthy bastard son of an English nobleman, equally as clever at keeping tabs on Jess as she is at tracking him. Sebastian is responsible for Josiah's arrest; Jess believes that Sebastian may be the Cinq; their mutual attraction proves a lovely foil for their suspicious minds. Glimpses of the leads' sordid pasts add depth, and Bourne's consummate way with a story line and an explosive denouement do the rest.

Romantic Times says:
Top Pick 4 1/2 ****

Readers who adored Bourne's debut will be enthralled with her new novel. Brimming with adventure, intrigue, wit, sensuality and colorful historical details, this is an adventure reader's dream come true.

Though she's a wealthy young woman now, Jess Whitby hasn't lost her touch for picking a pocket -- a skill she needs if she's to prove her father's innocence. Her target is Captain Sebastian Kennett.

When Kennett sees a woman on the docks being attacked, he rushes to her rescue, bringing her back to his ship. He's fascinated by the spirited Jess and curious as to what secrets she may be hiding. There's also the fact that neither can deny the sparks that fly between them. However, Jess can't trust the man she suspects of being a traitor, or can she? Hunting for the truth leads to grave peril and chilling adventure, but the greatest danger comes from falling in love with the enemy. Reviewed By: Kathe Robin
What folks are saying ...
. . . "fascinating and complex in their interactions" . . ."the fabulous heroine, whose voice was so vivid, so alive, so insouciant and courageous." . . . "I felt like I was laying into something rich and exquisite, and I wanted to gobble it up" . . . "sexual tension so taut that there are times you can hardly catch your breath" . . . "Bourne's characters *sparkle* (and I mean that in a good, non-vampiric way.)" . . . "Infused with an intricately complex mystery and littered with intriguing characters and smart, snappy dialogue" . . .
About the book
Mass Market Paperback, Berkley, 336 pages
Published July 1, 2008
ISBN 0425222462 (IBM13: 0425244539 (ISBN13: 978-0425222461
Characters: Jessamyn Whitby, Josiah Whitby, Adrian Hawkhurst, William Doyle