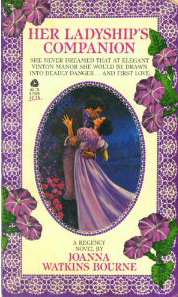 Her Ladyship's Companion
Cover Copy:
Cornwall 1818
Beautiful Melissa Rivenwood was leaving Mrs. Brody's Seminary for the Daughters of Gentlemen for a new life. But when she accepted the position as companion to the formidable Lady Dorothy, spirited Melissa could not have known that she would soon be caught up in a web of passion and intrigue at beautiful and remote Vinton Manor.
Giles Tarsin, her haughty employer, is maddenly aloof - and irresistibly attractive. Darkly handsome Sir Adrian Hawkhurst admires her undisguisedly with, Melissa suspects, the most impure intentions. Harold Bosworth, a family connection, appears to be ever the gentleman. But why is seven-year-old Robbie, an orphan like Melissa and the future Earl of Keptford, so terrified? Before long, Melissa is struggling to unravel dark family secrets that will lead her suspicions to center on just one man ... the one man she loves!
and an excerpt:
"Do you waltz?" he demanded, walking toward her purposefully.

Six years in a London girls' school and he asks if I know how to waltz, she thought in amazement.
"Yes," she reluctantly admitted.

"Then do so." He took her in his arms.

She would have stopped to argue, but by the time she marshaled her thoughts to say no she was already dancing, which made any resistance sound stupid.

Melissa discovered immediately that waltzing with the young ladies in the music room at school bore not the least resemblance to dancing with a man. Not that it was difficult. If she hadn't been so flustered, it would have been the most natural thing in the world to be moving with music in the circle of this man's arms.

It was a totally, completely impossible thing to be doing. "Mr. Tarsin. I can't do this."

"You do this very well," Giles murmured.

He was right. It was easy, easier than she'd dreamed. After the first embarrassing minute waltzing was as natural as walking.

The music slid smoothly across the hall and filled the parlor. The soft Aubusson carpet whispered beneath their feet. The green room was washed in gold and silver light.

Sometimes music is magic, fire in the veins, honey in the mouth. If the august patronesses of Almack's had not dried up to wizened husks decades before, they would have known better than to allow such a dangerous dance as the waltz within their doors.